The gene collector
By Xu Wei 2003-11-17 Shanghai Daily
กก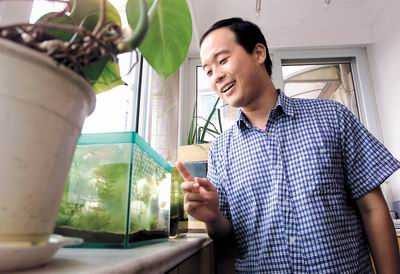 Gathering DNA material from China's minority populations is a massive undertaking. The daunting task needs to be done, according to doctoral student Li Hui, as the resulting knowledge will have applications in biology, history and sociology fields, reports Xu Wei

While his peers are enchanted by the picturesque landscapes in South China, Li Hui is racing to collect invaluable genetic material among the country's minority populations.

Li, a doctoral student with the center for anthropological studies at Fudan University, is a sample collector and trying to breathe new life into anthropological research.

Thus far, more than 30,000 pairs of hands have been studied. Based on palm and skin lines, Li can quickly tell the origins of most Chinese people he meets. Testing Li's unusual talent, I asked about my origins. He looks at my face, then palms for several minutes.

``With combined features such as an oval face and spindly eyes, you probably have a mixed origin from Tibet, south Jiangsu Province and north Zhejiang Province,'' smiles Li, 26, by no means a fortune-teller. Yet his familiarity with one's origin is astounding. He's correct.

And that's why Li jokes that his brain functions like illustration software FoxPro. However, Li's ingenious brain is more than a database.

Awarded the Mayor's Prize for Scientific Innovation Amongst Youngsters by Shanghai Mayor Han Zheng in August, Li's creativity and diligence have also earned him the first prize of the Challenge Cup National Competition of University Students' Science and Technology in 1999 and the Chun-Tseng Scholar title in 2000. Though surrounded with such accolades, Li insists on continuing with his work.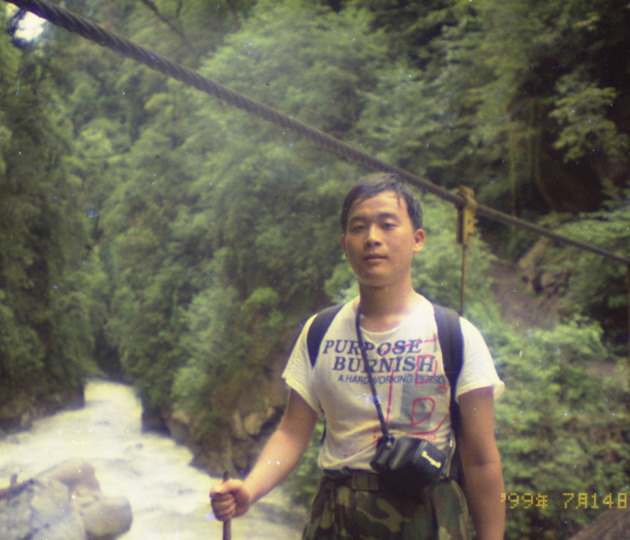 With the guidance of Jin Li, dean with School of Life Sciences at Fudan University, a group of faculty members and students are sparing no effort to understand the historical migration routes of the Asia-Pacific people. If successful, the project could have wide applications in other areas of study including biology, history and sociology.

Li is responsible for the sample collection in South China while colleagues are on a similar mission in other areas of the country. After cautiously comparing the DNA information acquired from hair and blood samples, and consulting relevant materials, he can illustrate the delicate differences and relations among varied ethnic groups and make a rough inference of their origins.

Back in 1997 that a letter written by Tan Jiazhen, a renowned biologist with Fudan University, unexpectedly inspired Li's project. In Tan's letter to Jiang Zemin, then China's president, Tan expressed deep concern about the dwindling gene pool of China's minority peoples.

In reply, Jiang quoted an old Chinese saying, ``A man without distant care must have near sorrow.'' With the government's support, Li, a student of Tan's, gathered like-minded classmates and began his first trip to Xishuangbanna, a scenic spot in Yunnan Province.

``On seeing the various ethnic minority groups there, I was deeply attracted by their diverse palm lines and genetic characteristics,'' says Li. ``From then on, my passion is tightly entwined with a whole new gene world.''

Nevertheless, sample collection is difficult and time consuming. It has also led to several unexpected risks. Yet long treks up mountains and through thick forests to reach remote villages have not dissuaded Li. He shrugs off such fears.

``I ran across a mud-rock flow during my trip to the Guangnan County of Yunnan Province in 2000,'' Li says. ``It was luck that I won the drastic race against the rolling rocks. I have never run so fast in my life.''

Li also suffers from various allergies. Both Guangdong and Guizhou provinces activated his eczema. Li persisted even when his body was covered with swollen sores.

But he has a few tricks and tips for dealing with the jungle. Li happily displays his ``weapons'' -- a package of salt to stop bloodsucking leeches and garlic to strengthen his immune system against viral infections. The hardships don't end there though, he has even slept in caves.

Risky and arduous as it is, the doctoral student enjoys the work. He takes delight in talking about the amusing cultural differences.

``Take the Tai people, or the Dai minority people, and the Mien people, or the Yao minority people, as an example,'' Li smiles. ``With a similar thinking mode, I find it easy to communicate with Tai people, who are pragmatic and cooperative with my work. The Mien people, though friendly, find continual toasts and feasts more important. When they are drunk, it's a good chance for me to collect samples, of course with their previous permission.''

The fundamental research of Li and his group is also affiliated with the grand project of national gene group studies, a new push for the country's future development. With increasing importance attached to genetic research, China is investing heavily in life sciences, biotechnology and gene therapy research.

``To avoid making unilateral analysis and conclusions, sample collection is basic and indispensable work,'' says Lu Daru, professor of the School of Life Sciences with Fudan University. ``Based on the fundamental information acquired from Li and his fellows, rough migration routes of each people will appear and their genetic characteristics will also be well understood.''

And with that great mission in mind, Li, once again sets off for his next sample collection trip.
กก
The Origin of Shanghainese According to Li Hui and his team's genetic research, the Shanghainese people have three main points of origin -- the group from ancient-time Yue or northern Zhejiang Province; the people from ancient-time Hua or present-day North China; and migrants from ancient-time Wu or southern Jiangsu Province nowadays.

Shanghai's history can be traced back 5,000 years when migrants from Yue created the famous Liangzhu Culture (3310-2250 BC) -- a late Neolithic culture of Southeast China that featured high-quality jade artifacts -- that settled in present Songjiang and Fengxian districts.

The war and social turbulence during the Qin Dynasty (221-206 BC) and the Southern and Northern Dynasties (420-589 AD) created heavy migration from North China to Shanghai.

In the Tang Dynasty (618-907 AD), migrants from Wu prospered in the areas of Pudong, Chongming, Nanhui and Jinshan. Amazingly, people often confuse migrants from Wu with those from Yue.

Li says the former usually have a little hooked nose and men traditionally have overwhelming power while the Yue people attach more importance to a stronger female role in the family.